Bring Your Beer to Work Day with Heineken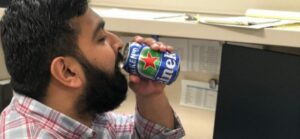 Towards the beginning of 2019, employees in states throughout the US got to sample Heineken 0.0 beer in their office as part of 'Bring Your Beer to Work Day' – supporting their #NowYouCan campaign.
Using our network of office spaces was the perfect way for Heineken to advertise their new alcohol-free beer, as staff were encouraged to enjoy their cold brew in meetings, at their desks whilst working and at lunch with colleagues.
Image gallery
Now You Can!