Energising the Global Workforce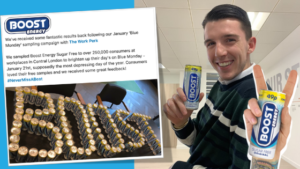 Back in January we teamed up with Boost Drinks to help launch their new Boost Sugar Free Original energy drink around London Zones 1-2 – what better way to perk employees up during a long work shift?!
The demographic of selected companies that participated accurately matched the brands target audience. This meant that we were able to promote key brand messages and impact 250,000 of their ideal consumers.
Utilising Blue Monday (claimed to be the most depressing day of the year) on the 20th January to energise employees was the perfect PR opportunity, and Boost Drinks were thrilled with the engagement and feedback they received.
"
People thought it was great to have an energy drink sample especially during the middle of the week, they were surprised it only costs 49p and is sugar free, they really enjoyed the taste…they would definitely go and buy it as it is much cheaper than other brands and good quality
Victoria House Property Limited Partnership
|
On the other side of the world, we've had a string of exciting campaigns working with Red Bull to promote their super tasty and stimulating Red Bull Yellow Edition in Tropical Fruits and Red Bull Sugarfree!
Offices in Minnesota and Iowa have been getting their Red Bull wings, helping them to go that extra mile at work. As well as utilising our traditional desk-drop vehicle, Red Bull brand representatives (the 'Wings Team') were also present at office sites to hand deliver the product to workers. Looking to impact infrequent energy drink consumers, the brand was keen to present their sugar free product as an alternative – giving hard workers a much-needed caffeine boost without the added sugar.
Find out more about Red Bull Yellow Edition, Red Bull Sugarfree and the complete Red Bull range by clicking here.
You may also like
5 Benefits of Employee Rewards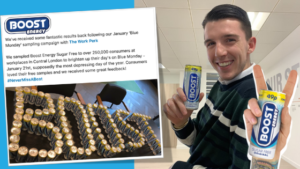 Energising the Global Workforce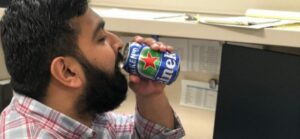 Bring Your Beer to Work Day wi…