Employee Appreciation Day!
It's been a whirlwind of twelve months for the workforce with life quickly moving to remote working, but it's also been hard and companies do not always recognise the efforts of their workforce. This is why Employee Appreciation Day has caused ripples across in the working world this year which aims to strengthen the bond between companies and their employees.
Now it's time to recognise, appreciate and celebrate your employees! So how will this change the relationship between companies and their workforce?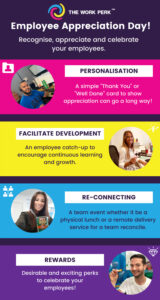 Personalisation
It's human nature to feel appreciated. In fact, a personal message or a card is a wonderful way to communicate to employees that their hard work is being valued by their company. Something as simple as a "Thank You" card or "Well Done" message can increase productivity levels and boost morale according to.
​
Facilitate Development
The unpredictable landscape of the pandemic forced companies to focus their attention elsewhere. However, after a year of an unsteady environment, people are eager to continue working on their craft and sharpen their skills. Personal development and growth will become a big theme now that flexible working cuts down commuting, companies should not miss out on this opportunity where employees can use the extra time to focus on how their employees can advance their contribution and engagement.
Reconnecting
Making sure that the wider team feels connected to their company and colleagues will be a crucial culture point that impacts a company's success moving forward. Examples of this include; having a team lunch once a fortnight whereby all members receive their food remotely on their doorsteps, or an activity which allows them to get together and connect whilst feeling appreciated for their hard work. Reconnecting increases productivity levels, improves mood and entices employees to go the extra mile!
Rewards
There is no better way to make employees feel valued than by offering them desirable and exciting rewards to celebrate their achievements. Whether it's a voucher for their favourite restaurant or free samples of sweet delicacies, it's the little things like this that make a difference.
Register today to begin receiving free samples for your employees, all you have to do is enter your work address!
Keep up to date with the latest news and campaigns for your staff on our social media @TheWorkPerk