The Work Perk Win Two Trophies at the IPM Awards 2020!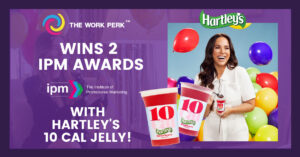 We're delighted to announce that for the third year running, The Work Perk have received recognition at the Institute of Promotional Marketing Awards – picking up not just one award, but two! Our 2020 Joyful January campaign with Hartley's won Silver Awards for both Brand Partnership Campaign Utilising a Clear Promotional or Incentive Mechanic and Insight/Strategy categories.
We were extremely excited to have the opportunity to partner with the Hartley's team once again, this time to promote Hartley's 10 Cal Jelly as the go-to, low-calorie sweet option for New Year dieters in the UK. Our Joyful January campaign was more than just a product handout. It was what we like to call an integrated sampling experience – involving a dedicated microsite (coined the 'Hub of Joy'), video messaging from Hartley's celebrity affiliate Vicky Pattison, competition incentives and bespoke questionnaires. None of this was complete, of course, without colourful, joyful extras set up in the workplaces – such as balloons, confetti and prizes to bring the Hartley's 10 Cal Jelly tone of voice to life.
"
We are really pleased to win two awards with our Hartley's 10 Cal Jelly campaign…Sampling is a crucial part of our 360 campaigns and overall marketing Strategy for Hartley's 10 Cal Jelly as we know that when consumers try our products they are very likely to go on and purchase. We want more people 'on a plan' whether that be dieters, diabetics or those simply looking to make healthier choices, to try and buy Hartley's 10 Cal Jelly.
The Work Perk brings our brand messaging to life in a positive, fun and 'on-brand' way, whilst reaching new potential shoppers. The insight we can gain from the post trial questionnaires means we can launch new products and campaigns that resonate with our new audience. The Sampling campaigns have been a part of a wider marketing strategy to recruit new shoppers and we are really excited to continue working with The Work Perk on exciting plans for the years ahead- driving brand awareness, trial and strong brand connections."
Elizabeth Fox
| Hartley's, Senior Brand Manager
Having delivered over 200,000 jelly pots directly to the hands of potential buyers, post-campaign insights from collected testimonials revealed that, despite 45% of samplers never having heard of Hartley's 10 Cal Jelly, 69% suggested that they would purchase the product in store.
We're incredibly proud of our team for helping Hartley's to fulfil their campaign vision for 10 Cal Jelly, and for showcasing how we have evolved the traditional sampling mechanic to a scale that sees us successfully compete in the awards arena. Having also won Best Product Launch at the IPM Awards 2018 and 2019, our awards cabinet now reflects the versatility of our services and how they enhance our clients' 360 marketing strategy.
Elizabeth Fox, Senior Brand Manager at Hartley's, shared why The Work Perk is an integral part of their marketing strategy.
Coronavirus hasn't stopped us – we're continuing to deliver sampling activations in the workplace that get your products direct to consumer in a safe and effective way.
If you would like us to execute your next sampling campaign or simply want to find out more information, email us at info@theworkperk.com today.
Visit our website here, and learn about our new offering – Personal Perks – the app that delivers your product samples straight to the homes of consumers by clicking here.
You may also like
5 Benefits of Employee Rewards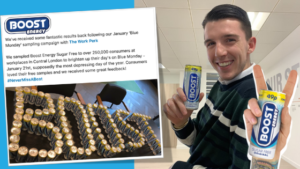 Energising the Global Workforce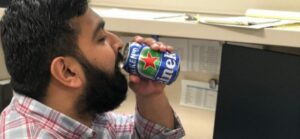 Bring Your Beer to Work Day wi…
Image gallery
Hartley's Campaign